'
System:
Produced: -
Manufacturer:
Price:
Features
DRAM:
BRAM:
Save states:
Slow motion:
RAM expansion:
DSP support:
Cart Utikities:
Disk Utilities:
Goldfinger:
X-terminator:
Datel Action Replay:
GUI:
Supported Media:
Compatible with:
Manual:
For the SNES/SFC, I had heard rumours about this, but had never seen one until now. Its clearly an early ProFighter clone. Thanks go to M0rF3us for the pic.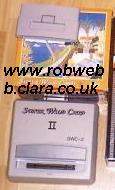 Ad blocker interference detected!
Wikia is a free-to-use site that makes money from advertising. We have a modified experience for viewers using ad blockers

Wikia is not accessible if you've made further modifications. Remove the custom ad blocker rule(s) and the page will load as expected.